Technical Specialities
Centrifugal Fan
 Double inlet Centrifugal Fan: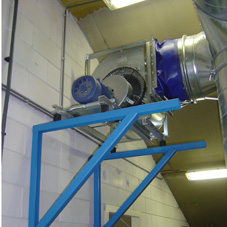 When one chooses to use only inside shed air, it is an option to integrate a centrifugal fan in the manure drying system. This fan can recirculate the inside house air. The air is neither filtered nor mixed with outside air.
Plettenburg advices always that fan type in order to be able to:
integrate the fan in a Heat Exchanger of Air Mixer afterwards;
accelerate this fan easily by means of adjusted pallasmaa and v-strings;
guarantee the utmost fancapacity and return compared to every other axial fan;
guarantee the most higher pressures while producing minimal noise level.
All recirculation fans are carried out with a V-string protection cap, protection nets inletside, vibration damper and a pressmouth including a flexible connecting flange to prevent transmission of fan vibration to the unit .