Heat Exchanger
Technical elements of the Plettenburg Heat Exchanger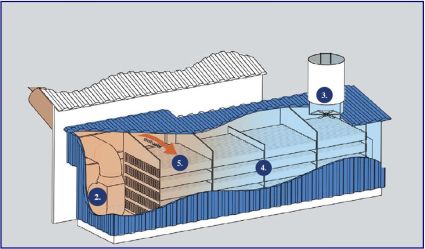 1. Gauze filter
The outside air is aspirated through a stainless steel gauze filter.
This stainless steel gauze prevents a rapid filthiness of the heat exchanger.
The filter can be easily cleaned by means of a high-pressure water sprayer or a brush.
2.Fan sectionThe fresh outside air is moved by a double inlet centrifugal fan. This fan is characterised by high efficiencies and low power consumption. The fan unit, consisting of fan, motor, V-belt drive and base frame, is supported on antivibration mountings. The outlet flange of the fan is connected to the outlet opening of the fan section by a flexible connection to prevent transmission of fan vibration to the unit.
3. Axial flow fan
The warm (saturated) air is exhausted by one of more axial flow fans. Depending on the construction of the heat exchanger, the axial flow fans can be mounted on the roof or through the ridge wall of the shed. The axial flow fans are selected on high efficiency and low noise level. The warm air is aspirated into the heat exchanger in the front by means of openings on upperside (indoor installation) or lowerside (outdoor installation). In the last option, an isolated tube guarantees the connection between the side opening of the shed and the heat exchanger. The saturated air leaves the heat exchanging section at the end and is blown out through a chimney.
4. Heat exchanging section
The oblong heat exchanging section, ranging from 7 to 10 metres, contains plastic tubes. Therefore, the heat exchanging surface is maximised, resulting in a high efficiency heat exchanger. For cleaning activities, the heat exchanging section can be opened by means of a rear hinged access roof.
5. Exhaust sectionThe shed airconnection for the heat exchanger is placed next to the fan section. Between the shed and the heat exchanger isolated tubes are mounted, in order to be able to exhaust the shed air.